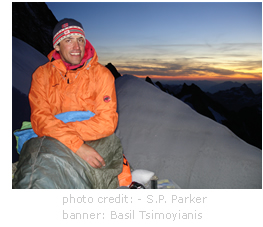 I am a native New Englander who has always been passionate about skiing, which naturally led me toward a life in the mountains and a myriad of exploratory pursuits therein. I pursued a degree in Wilderness Leadership from Prescott College in Arizona in 1994. This comprehensive learning and mentorship opportunity provided a solid and diverse foundation to begin my career as a professional mountain guide. After working for a decade as a climbing instructor and guide (rock, ski & alpine), I immersed myself in certification training and assessment with the American Mountain Guides Association (AMGA). I spent five years training with some of the leading guides in our country, having my personal guiding practices extensively evaluated and finely honed by peers while on courses and during rigorous examination. In March 2008, I completed my full guide certification becoming an internationally licensed IFMGA/UIAGM guide, the highest achievement for mountain guides worldwide. While ski mountaineering remains my greatest passion, I am also certified in rock, ice and alpine climbing disciplines. It's an honor to become one of a handful of guides in New England to receive this recognition.
Since moving to Vermont in 1996, I have helped to create curriculum and instruct skill-focused leadership development programs for a number of local colleges and universities, focusing on technical climbing, skiing and avalanche awareness. These experiences complement and inform my guiding style by providing me with a broader understanding of experiential education practice and development for aspiring wilderness leaders.
I believe solid wilderness travel skills are crucial to our success in the mountaineering realm. Since 1990 many of my days have been filled with all sorts of wilderness travel from river and sea kayaking to backpacking for up to 30 days at a time in the field. This time has allowed me to develop my navigation, personal systems, mountain sense and leadership. My mountain interests have lead me to extensive rock climbing throughout the U.S. and Canada, alpine climbing in the Alps, Andes, Alaskan Range, Canadian Rockies and North Cascades; skiing in the Wrangell/St. Elias Ranges of AK, Chic Choc's of Quebec, Rockies of Idaho and Colorado, Sierras, New England, French, Swiss and Italian Alps; high altitude expeditions to Alaska, Mexico, Ecuador, Peru and Bolivia; ice climbing in Canadian Rockies and New England.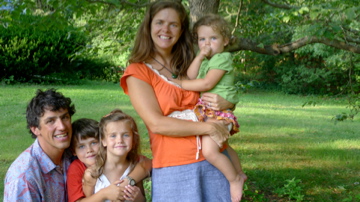 I value the experiences and path I've taken as a lifetime professional mountain guide. Having worked as a mountain guide since 1994, I've come to understand my work more as a lifestyle than a career. This realization sustains my passion for working in the mountains and keeps my relationship with the diversity of clients I work with fresh and exciting. The other gift my life as a guide and educator provides is time to pursue my grand passion in life...my family. Being primarily a stay at home father for much of the year, I have learned a great deal from my son Stokely and my daughters Harper and Frances. I have been fortunate to be able to spend so much time with my wife, Kimberly and our children. We have agreed that this time in our children's development is crucial...to have us each play an integral role. I have never been a traditionalist. Working 9 to 5 has not been part of my world. Being a mountain guide allows me to continue in this vein by allowing time at home with my family for much of the calendar year, and, with the support of my wife and other family, time to travel with clients to my "office" in the hills.


photo credit: S.P. Parker, Adrian Ballanger, Jeff Banks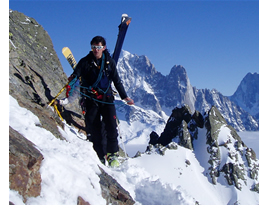 Certificates and professional development:
AMGA Rock Instructor Course, N. Conway, NH 2005
AMGA Rock Guides Course, Red Rocks, NV 2006
AMGA Alpine Guides Course, Alaska 2003
AMGA Advanced Alpine Guides Course, Canada 2005
AMGA Ski Mountaineering Guides Course, La Grave, France 2007
AMGA Certified Rock Guide, Red Rocks, NV 2006
AMGA Certified Alpine Guide, N. Cascades, WA 2007
AMGA Certified Ski Mountaineering Guide, Chamonix, France 2008
IFMGA/UIAGM Certified Mountain Guide, Chamonix 2008
CAA Certified Level I Avalanche Training, Canada 1993
AIARE Certified Level III Avalanche Training, Utah 2007
WFR 5 years Professional Ski Patrol Experience
photo credit: Jeff Banks
Related Work Experience:
Guide and co-owner of Peak Expeditions, a Vermont based climbing instruction and guiding company leading international and domestic trips. 1997 – 2005
Adjunct Faculty in Outdoor education teaching college credit based courses in the areas of: ice and rock climbing, backcountry skiing and avalanche awareness, winter expeditions and backpacking. Johnson State College 1999 – Present, Greenfield Community College 2003- 2006, Prescott College 2005 – 2006
Contracted guide for rock and ice instruction, international high altitude expeditions and backcountry skiing and avalanche awareness. University of Vermont 1999 – Present
Contracted ski guide for Sun Valley Trekking, an Idaho based mountain hut system for backcountry skiing adventures. 2001 - Present
Testimonials:
"Mark is an extremely competent and dynamic guide. The extent of his knowledge for systems is impressive and allows him to adapt to challenging situations that present themselves. His proficiency in the mountains ensures that clients will feel safe while still pushing themselves to achieve predetermined goals. Most importantly Mark has a profound respect for the mountains and understands that judgment can never be overshadowed by blind ambition or ego. He once said to me, "you never bag a peak, but rather the mountain decides whether or not it will be climbed". This has stuck with me and will always be the view that I take. I have shared a rope with Mark many times and intend to many more. Matt Tosi
"Mark guided me on my first alpine climbs last winter, and I recently returned from a climbing trip to Peru with him. Mark is a compassionate and seasoned guide who handles with great knowledge not only the rope, but an understanding of the cultures and regions around the areas where he climbs. Mark has a great talent for providing the necessary physical and emotional support for his clients and I feel extremely fortunate to have been guided up my first big mountains with Mark!" Phillip Ortego
"I`ve climbed with many leaders throughout my 11 years on both rock and ice. I choose Mark Puleio more then any other. The reason is simple; Mark walks the walk, never needing to flaunt it. Mark is extremely knowledgeable at all levels of climbing. Unlike other guides, Mark never takes himself too serious, but he takes climbing and safety very serious."
Eric Schwartz
"Mark guided me successful to the summit of Mont Blanc and prior to this a smaller alpine climb. Mark is the 5th guide I have experienced and is by far the best. Mark's approach is to provide outstanding levels of safe protection expertly done in a way that enables you to get on and enjoy your expedition confident in the knowledge that you are in good hands. Mark is a really great individual to spend time with on the mountains. He is both interesting and interested. Mark also took the time to teach me knew skills enabling me to get even more enjoyment from the time we spent together. The outcome of all this was an experience in which I felt we were a team rather than guide and client. I have banked my time with Mark as happy memories and over the years intend to add many more with this exceptional individual. I whole heartedly recommend him to you."
Dom Irvine, July 2010, Chamonix, France.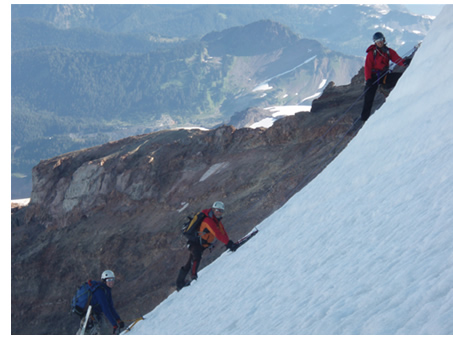 Mountain Experience:
Mountains
20,320' Denali, Alaska West Buttress
19,900' Cotopaxi, Ecuador Standard
18,980' Nev. Pisco, Peru SW Ridge, 3 times
17,618' Pequeno Alpamayo, Bolivia WSW Ridge
19,975' Huayna Potosi, Bolivia Normal
17,690' Charquini, Bolivia West Glacier
18,750' Vallunaraju, Peru SW Ridge, 4 times
18,262' Ishinka, Peru Traverse, 2 times
19,970' Tocllaraju, Peru Standard
18,024' Urus, Peru Standard
19,762' Artesonraju, Peru South face
17,908' Yanapaqcha, Peru SW Face, 2 times
17,470' Maparaju, Peru SW Face
20,998' Chopicalci, Peru SW ridge
17,780' Huapi, Peru SW face to ridge
18,517' Pico de Orizaba, Mexico Jampa
9,330' Crescent Towers, Buggs. BC Traverse W-E
9,250' Hound's Tooth, Buggs. BC NW Face
9,029' Castle Mt., Rockies, AB. Eisenhower Tower, IV 5.4
9,029' Castle Mt., Rockies,AB. Brewers Buttress, IV 5.6
10,342' Mt. Aberdeen, AB. North Face
11,453' Mt. Athabasca,AB Silverhorn
6,288' Mt. Washington, NH Hunting tons gullies
3450m Les Pointe Trifide, France SW Ridge
10,781' Mt Baker, Wa North Ridge
8,815' Mt. Forbidden,Wa NW face to N. Ridge
9,127' Mt. Shuksan, Wa Fischer Chimneys, SE to NE Ridge
9,415' Mt. Stewart,Wa West ridge 4810 m, Mt Blanc, France, via Gouter and Tos Montets routes many times
4810m, Mt Blanc Gouter and Tos Motets Routes (as of 2012 over 2 dozen accents)
4248m, Mt Blanc du Tacul normal
3842m, Aiguille du Midi, France, via Frendo Spur on the North face, Arete des Cosmiques, Contamine and Rebuffet routes on the South face
3792m, La Tour Rond, France, North face
3534m, Aiguille de Toule, France, N and NW faces
3600m, Aig. d'Entreves, France, Traverse
3613, Point Lachenal traverse with Valle Blanche traverse
4223m, Castor, Swiss, WNW Flank
4092m, Pollux, Swiss, West Flank
4164m, Breithorn, Swiss, Traverse
4061m, Grand Paradiso, Italy West and NW Flank routes

photo credit: Dale Remsburg

Rock Climbing
5.7 T Cannon Cliff, NH Whitney Gilman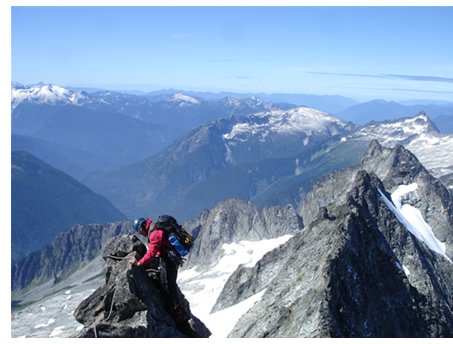 5.8 T Cannon Cliff, NH Moby Grape
5.8 T Cannon Cliff, NH British are Coming
5.9 T Cannon Cliff, NH Vertigo
5.9 T Cathedral Ledge, NH Retaliation
5.10 T Cathedral Ledge, NH Book of Solemnity
5.9 T Cathedral Ledge, NH Recom.-Beast
5.10 T Cathedral Ledge, NH The Deidre
5.10 T Cathedral Ledge, NH Nut Cracker
5.9+ Cathedral Ledge, NH Rapid Transit
5.10 M Cathedral Ledge, NH Windfall
5.10 M Cathedral Ledge, NH Cold Day - Tranquility
5.10 T Whitehorse ledge, NH Seventh Seal
5.10 T Whitehorse ledge, NH Atlantis
5.9 M Whitehorse ledge, NH Hotter Than Hell
5.8 T Whitehorse ledge, NH Inferno
5.9 M Whitehorse ledge, NH Children's Crusade
5.10 T Poke o Moonshine, NY Fastest Gun
5.8 T Poke o Moonshine, NY Gamesmanship
5.9 T Poke o Moonshine, NY Great Dihedral
5.9+ T Spiders Web, NY Esthesia
5.9+ T Spiders Web, NY Slim Pickins
5.9+ T Spiders Web, NY On the Loose
5.9+ M Smugglers Notch, VT Better Livin Through Chemistry
5.10 T Bolton Valley, VT Rose Crack
5.9 T Red Rocks, NV Community Pillar
5.8 T Red Rocks, NV There and Back Again
5.9 T Red Rocks, NV Varnishing Point
5.9 M Red Rocks, NV Refried Beans
5.10 M Red Rocks, NV Yellow Brick Rd.
5.10 T Red Rocks, NV Triassic Sands
5.8 T Red Rocks, NV Frogland
5.10 M Red Rocks, NV Prince of Darkness
5.10 T Red Rocks, NV Wholesome Fullback
5.10 T Red Rocks, NV Left Out
5.9 T V Red Rocks, NV Epinephrine
5.7 T IV Red Rocks, NV Solar Slab
5.9 T IV Red Rocks, NV Hot Fudge Thursday
5.9 T IV Red Rocks, NV Dark Shadows
5.9+ T IV Red Rocks, NV 20 Black Orpheus
5.10 T IV Red Rocks, NV Clod Tower
5.8 M IV Red Rocks, NV Crimson Chrysalis
5.8 T IV Mt. Yamnuska, AB Directisma
5.8 T IV Mt. Yamnuska, AB Forbidden Corner (winter ascent)
5.10 T Cathedral Mt., Zion, UT Iron Messiah
photo credit: S.P. Parker
Ice Climbing
3 Frankenstein's, NH Standard
4+ Frankenstein's, NH Dracula
4+ Smugglers Notch, VT vRagna Rock v
4 Smugglers Notch, VT Norton/Gibney
4 Smugglers Notch, VT Blind Fate
3 - 4 Lake Willougby, VT Tablets
5 vLake Willougby, VT Glass Menagerie
5 Lake Willougby, VT Promenade
Skiing
Wrangell Saint Elias Wilderness, Baldwin and Jefferies glaciers confluence, AK
Peak 9970' East Face 45 degrees/2,700'
Glaciated Peak 9978' South Face 45-50/1,500'
Glaciated Peak 9978' North Shoulder 40-45/1,900'
Glaciated Peak 10,140' North=20 Ridge 40-45/1,700'
Glaciated Peak 9560' East Face 50-45/2,000'
Glaciated Peak 9172' Northeast Face 45/1,200'
Non Glaciated Peak 9580' South 35-30/2,000'
Glaciated Peak 8265' Northeast Face 45/1,200'

Glaciated La Grave, La Meije, France Ski Descents 2007, 2008
Trifides 0, 1, 2, The Freaux, Banana, Patu, Pan de Ratou (50 plus degrees), Chirouze Right, La Voute, 40-45 degrees/100-600 meters technical glaciated routes most involving rope work
Couloir Davin in the Cusset glacier valley coulair proper 40-45 degrees/900 meters, tour was 14 K round trip with 1700 meter elevation gain, glaciated
Tour in the Vallon du Fontenil to Peak 2986 was 10 K round trip with 1400 meters elevation gain, non glaciated 30 – 35 degrees
Tour in the Vallon du Roche Noire to Peak 3116 was 10 K round trip with 1100 meters elevation gain, non glaciated 30 –35 degrees
Haute Route from Chamonix to Zermatt, Verbier version 7 days ski touring over the heart of the Swiss Alps
Berner Oberland Tour, Switzerland, 7 days ski tour in high glaciated terrain
Ortler/Cevedale Ski Tour, Italy, & days in the Heartland of the Italian Alps of the South Tyrol
Chamonix Valley Ski Descents 2008
Tour in Aguille Rouge Col De Beugeant*
Col de Crouches to Col de Berard to Village of Le Beut
Valle Blanche to Col Maudit area to Col de Marbier to Glacier Noir to Mer de Glace
Col du Passon to Le Tour*
Col du Chardoney superior to Col du Frentna to Petetit Forche summit down Tet Blanch to Trient hut*
Trient hut to Aguille du Tour summit to Col du tour to Le tour*
Col Du Crouches to Col du to col de key hole to Le Beut*
Petit Enviers, Grand Enviers, Very Valley Blanch to Mer de Glace,
Cosmiques Coulair* technical glaciated 40 -45 degrees,
* involves rope work
Smokeys and Sawtooth Mts. ID, 100 plus days of one to seven day ski guiding trips while co instructing Level 1 Avalanche Awareness Course with a three day field curriculum (AAA) during the seasons of 2002 - 2006. Day tours of up to ten miles with 5,000' elevation gain, slopes 25-45 degrees in and around the areas of: Mt. Galena Pass, Kelly Peak, Durrance, Tournac Peak, Fox Peak, Baldy Mt., Anderson Creek, Baker Creek, Red Fish Valley, Bench Lakes, Mt Heyburn, Fishook Valley, Mt Willams
Chic Choc Mts. Gaspesei, Quebec, 14 days of day ski guiding with day tours up to 15k with 300-800 meter elevation gains 25 – 40 degrees Non Glaciated
Kootney Mts., BC 1993
Many different tours in and around Red Mt. and Whitewater ski hills and the Hucklebury hut and Barret Lake bowls areas 25-45/500' – 2,000' Non Glaciated
Columbia Icefields, AB Tours including Snow Dome Southeast Shoulder and Athabasca Glacier descent 25-35/1,500' Glaciated

Glacier National Park (Rogers Pass area) Tours including Cheops and Bruins Peaks lines 30-40/1,000' – 2,000'

San Fransico Peaks, AZ
Many different lines in the Inn er Basin 30-40/1,000'- 2,000' Non Glaciated

Donner Pass, Tioga Pass, CA 1994
Mt. Conness Southeast 30-40/1,000' Non Glaciated
North Peak South and North 40-30/1,000' Non Glaciated
Tours out of the Peter Grub hut area with lines 30-35/500'-1000' Non Glaciated

Kaibab Plateau/Grand Canyon Traverse, AZ 1994
14 day ski traverse with turns near the North rim
Tuckermans Ravine Mt. Washington, NH 1997-05
All major gullies in Tucks 30-45/500' – 1000' Non Glaciated