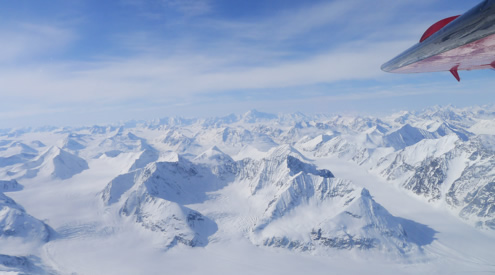 Flying into the Range is both impressive and humbling!
Ski mountaineering in the St. Elias Range of Alaska during the month of May is a dream come true for many skiers who still seek remote wilderness adventures. From the South East coast of Alaska stretching into the Yukon, the Wrangell-St. Elias National Park and Preserve combined with the Kluane National Park and Preserve of Canada comprises the largest designated wilderness in the world! We will be on the border of Canada in the the U.S. between the highest point of Canada, Mt Logan 5959m/19,545' and the mighty St. Elias 5490m/18008' with it's massive vertical relief plunging into the ocean some 10 miles away. The Park we will be skiing in is larger than Switzerland with ice fields larger than some New England states allowing us many options for exploring tours and turns. There are many mountains here unnamed and untouched and we will be in position to ski lines that are in condition during our time there.
I run this trip in conjunction with my friends at Sun Valley Trekking and my original skiing and climbing partner Joe St. Onge. With a couple dozen trips under his belt to this area Joe brings an intimate understanding of the many peaks and weather patterns we may experience. We are fortunate to have the amazing skills and experience of Paul Claus and his family's Ultimate Thule Outfitters. They are the only ones who do such challenging flights into the heart of the St. Elias and we are happy for this relationship. Paul's beautiful bird places us down in the middle of the Wilderness and the rest is up to us. We will be Airplane camping if you will around the nunataks of the Bagely Icefields which sets the stage for tours and turns from a comfortable base camp setting. The climbs and descents are in the range of 1,000 – 3,000 feet. Mellow long ski tours are a potential as well as full on rappelling onto faces and skiing committing lines. The snow pack, weather conditions and the parties abilities greatly dictate the day to day objectives. The old Dolores LaChapelle saying "When you dance with the mountain the Mountain always leads" couldn't have more meaning in this remote Wilderness location. This trip is relatively low in altitude (10,000') so acclimatization is not needed allowing for short itineraries. This is truly a ski trip of a lifetime unlike no other. A bucket list experience for sure!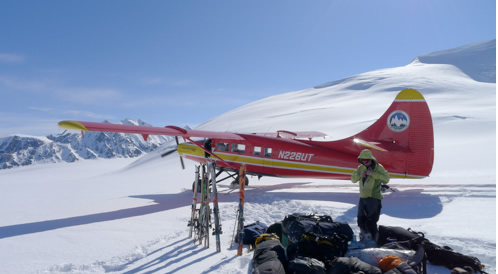 Once the plane leaves it gets very quiet!
Possible Itinerary:
Day 0 - Meet and greet in Interlaken for equipment check, itinerary review and dinner
Day 1 Depart via rental van to travel to Chitna airstrip of Ultimate Thule Outfitters. Here we will await the appropriate weather to fly into the Range.
Day 2 With good weather we will fly into the Range and establish base camp and get a feel for conditions.
Day 3 through Day 8 - We will climb and ski peaks as conditions allow and/or do a multi day tour of the peaks in the Bagley and Jefferies ice fields.
Day 9 - 10Plan to fly out of the Range and head towards Anchorage.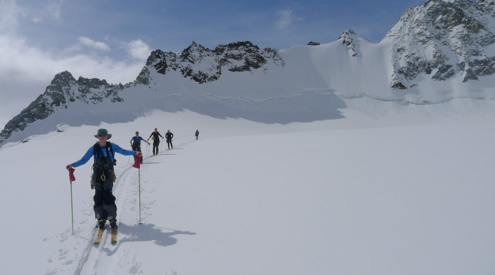 Lovely day fo a tour of the local glacial cirque
Ski skills and fitness level needed for an enjoyable outing:
Participants need to be solid intermediate to advanced skiers who are comfortable in variable snow conditions in a variety of terrain including glaciated avalanche terrain. It is important to have the skills to manage speed and have control in variable surface conditions (powder, hard pack, breakable crust, corn and pack powder) while in glaciated terrain to avoid crevasse hazards. At a minimum standard of fitness, skiers need to be able to ski on a tour up to 6 -8 hours with a 25lb pack covering up to 1500 m (5000') skinning/boot and up to
Link turns for speed control in exposed 40-degree hard pack conditions 1500 m of skiing. Having these following skills will make our tour more enjoyable as well as less stressful:
Backcountry ski/snowboard touring experience including skinning on an AT or Tele set up in avalanche terrain while using a transceiver, shovel and probe and have basic understanding of this equipment.
Ability to make kick turns in hard pack and soft snow conditions in steep terrain. We will work on these skills day one on a tour but working experience prior will help not only proficiency but also safety.
Side stepping in 45-degree hard pack or soft snow conditions
Falling leaf (side slipping to and fro) in 45-degree terrain on hard pack or soft snow conditions
Link turns for speed control in exposed 40-degree hard pack conditions
Link turns in soft snow conditions while skiing fall line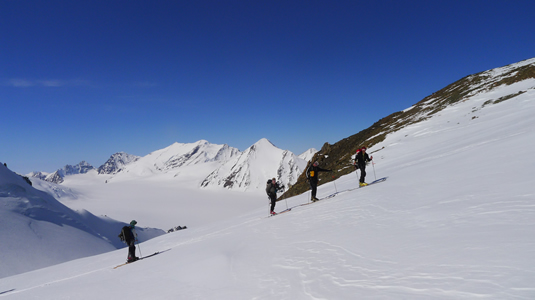 Touring in the Heart of the St. Elias Range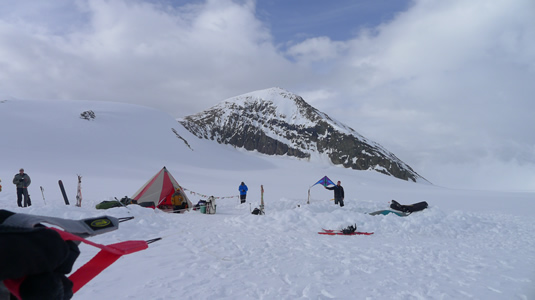 Cocktails and Kites!
Trip Cost and Dates:
TBA Inquire for details
April into early May
Trip Cost include:
Based on a group of 4 or more and is subject to change based on the glacier flight cost and permitting cost.
Please inquire for current cost.
Early May
Dates are reserved on a deposit basis in a first come first served manner. This trip best planned more than 6 months in advance.
IFMGA/UIAGM guide or AMGA Ski Mountaineering Certified guide for 10 days at a 4 to 1 ratio
Two nights in hotel (double bed occ.)
Glacier flight into Range
Van transportation to and fro Chitna from Anchorage
Office support
Base camp infrastructure including Sat phone and Spot, cook tent and supplies

Trip Cost DO NOT include:
Air transportation to or fro Anchorage
Rescue insurance see AAC www.americanalpineclub.org
Travel insurance (optional but highly recommended)
Delays due to unpredictable circumstances such as bad weather, avalanche hazards, transportation problems including planes, sickness, lost baggage etc…
Gratuities

Terms and Agreement:
$500.00 Deposit per person is due at time of booking
Total payment due 60 days prior to departure date
Cancellations of 60 or more days prior to departure, A.G.I will charge $100.00 fee and refund the remaining amount.
No refund for cancellation made within 60 days of departure date! If you or I are able to resell your trip space we will refund all but $100.00 of the total amount.
If A.G.I. cancels the trip you can expect a full refund
I can give more support with the travel logistics as needed.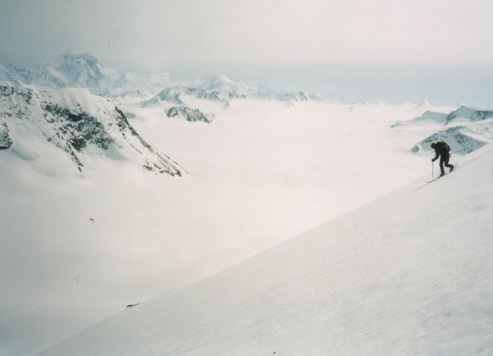 Carving corn Truly in the middle of nowhere where everyting exists!