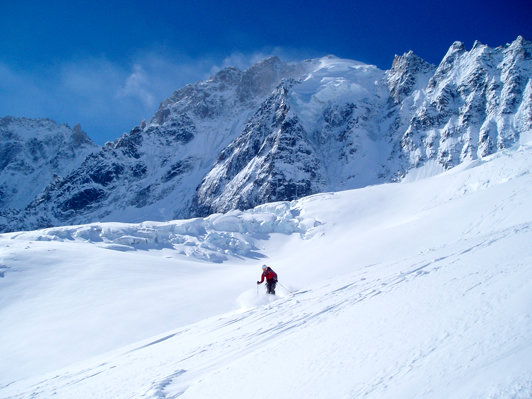 Dropping down Rognons Glacier day one of the Tour!
Come join A.G.I. on an amazing ski mountaineering tour through the heart of the French and Swiss Alps. Though there are many haute routes ("oat" route) in the Alps, this one is the quintessential high mountain route most people think about. This tour will begin in the village of Chamonix, France travel to Verbier and end in the village of Zermatt, Switzerland some 100 kilometers later. The first day or two begins with a descent from the Aiguille du Midi, the highest lift access in the world, down the Mer de Glace. This descent is one of the most beautiful and longest ski runs in the world. During this time we do some skill assessment and development as needed and sort out any equipment issues we may encounter. We then begin our tour through many mountain cols and glaciers from one comfortable mountain hut to another. There are many variations along the way due to hut availability, weather and group needs that the following is an example of one of the many possibilities. This truly is an amazing week of ski touring through fantastic terrain by day and wonderful food, spirits and camaraderie by night.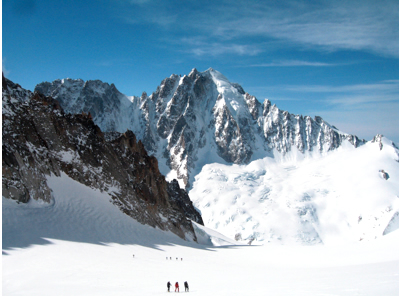 Heading to the Gateway of the Haute Route
Possible Itinerary:
Day 0 - Meet and greet in Chamonix for equipment check, itinerary review and dinner
Day 1 – Ride the legendary Aiguille Du Midi lift to access the Vallee Blanche for a short tour and long descent finishing in time for any last minute equipment needs to be met while still in Chamoinx for the night.
Day 2 – A casual morning riding the Grand Montets lift to 3280 (10,760') a lovely descent down to the Argentiere Glacier and then tour up this amazing valley to the Argentiere hut. This day allows us to avoid the crowds heading over the Col du Chardonnet as well as a bad weather day if needed.
Day 3 – Up and over the gateway to the Haute route, the Col du Chardonnet, then the Fentetre de Saleina into Switzerland. We traverse the beautiful Trient plateau to the Cabin de Trient.
Day 4 – From the Trient hut we have a couple options to descend about 1200 m (4000') into the village of Champax. We then take a bus and train to get to Verbier. From here we ride the lifts to access the Mt. Fort hut and have the option to upgrade your one ride lift ticket to an all day conversion if you want afternoon piste skiing.
Day 5 – We begin with an easy skin up the piste to the Col de la Chaux 2940m (9,646') then the Col de Momin 3005m which opens up to a beautiful climb and ski of the Rosa Blanche leading down to the Prafleuri hut.
Day 6 – Our early morning climb brings us over the Col des Roux 2816m (9,200') to a long side hill traverse above the Lac du Dix before winding our way up the Cheilon Glacier valley to Tete Noire where the Dix hut is located. This one of my favorite après ski huts for the outstanding views and positioning.
Day 7 - A long morning climb to the Col de Brenay 3635m and our high point summit of the tour, the Pigne d'Arolla 3790m (14,917'), a nice long ski down to the unforgettable Vignettes hut. The positioning of this hut makes one want to sit down and take it all in!
Day 8 – This is a very long outing beginning with an alpine start to give us the time needed to negotiate three cols, Col de L'Evesque 3382m, Col du M. Brule 3213m and finally the Col de Valpelline 3566m in almost 20 kilometers (9 miles). We finish this tour with almost a 2000 meter descent winding down the Stockji and Zmutt Glaciers and finally onto the piste and down into the village of Zermatt for much needed celebrations.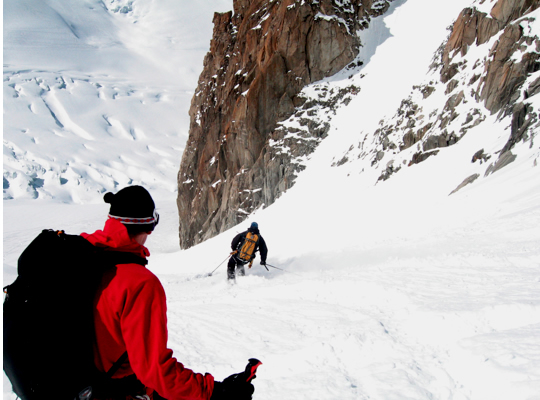 Linking turns deep snow on the Glacier Noir
Ski skills and fitness level needed for an enjoyable outing:
Participants need to be solid intermediate to advanced skiers who are comfortable in variable snow conditions in a variety of terrain including avalanche terrain. There are some steep sections on this tour that we often boot up and side step or get lowered down on a rope. With that said there isn't much real steep skiing as most of it consists of moderate angled glacier skiing. It is important to have the skills to manage speed and have control in variable surface conditions (powder, hard pack, breakable crust, corn and pack powder) while in glaciated terrain. There are a number of hard days interspersed with easier days on this tour. At a minimum standard of fitness, skiers need to be able to ski on a tour up to 6 -8 hours with a 25lb pack covering up to 1500 m (5000') skinning/boot and skiing. Having these following skills will make our tour more enjoyable as well as safer:
Backcountry ski touring experience including skinning on an AT or Tele set up in avalanche terrain while using a transceiver, shovel and probe and have basic understanding of this equipment.
Ability to make kick turns in hard pack and soft snow conditions in steep terrain. We will work on these skills day one on a tour but working experience prior will help not only proficiency but also safety.
Side stepping in 45-degree hard pack or soft snow conditions
Falling leaf (side slipping to and fro) in 45-degree terrain on hard pack or soft snow conditions
Link turns for speed control in exposed 40-degree hard pack conditions
Link turns in soft snow conditions while skiing fall line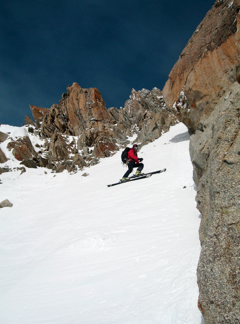 Coming off the rapps. in the Cosmiques
Trip Cost and Dates:
$2900.00 group of 4 or more
Mid March to Mid April
Trip Cost Includes:
IFMGA/UIAGM guide for 8 days at a 4 to 1 ratio
Lifts, trains and bus transfers
Two nights in Chamonix hotel (double bed occ.)
One night in Zermatt hotel
Five nights at mountain huts complete with breakfast/dinner
Baggage arranged to meet us at our hotel in Zermatt
Office support
Trip Cost Does NOT include:
Air transportation to or from Geneva, Switzerland
Train transfers from Geneva to Chamonix
Train Transfers from Zermatt to Geneva
Lunch food or town food
Drinks and treats at huts (water is Very Expensive)
Rescue insurance see AAC www.americanalpineclub.org
Travel insurance (optional but highly recommended)
Full day lift ticket conversion at Verbier if wanted
Delays due to unpredictable circumstances such as bad weather, transportation problems including trams and trains, sickness, lost baggage etc…
Gratuities

Terms and Agreement:
$500.00 Deposit per person is due at time of booking
Total payment due 60 days prior to departure date
Cancellations of 60 or more days prior to departure, A.G.I will charge $100.00 fee and refund the remaining amount.
No refund for cancellation made within 60 days of departure date! If you or I are able to resell your trip space we will refund all but $100.00 of the total amount.
If A.G.I. cancels the trip you can expect a full refund

Additional Days:
Of course there is fantastic skiing out of Zermatt as well if folks wish to book further days of off piste guiding while in this Iconic valley please let me know to make prior arrangements.
Transportation to and from:
I suggest flying into Geneva, Switzerland, access Chamonix via one of the many shuttle services such as Chamexpress.com for the 1 hr. 30 Euro One way. The Swiss train can be caught every hour from Zermatt for the 4 hrs to Geneva via rail.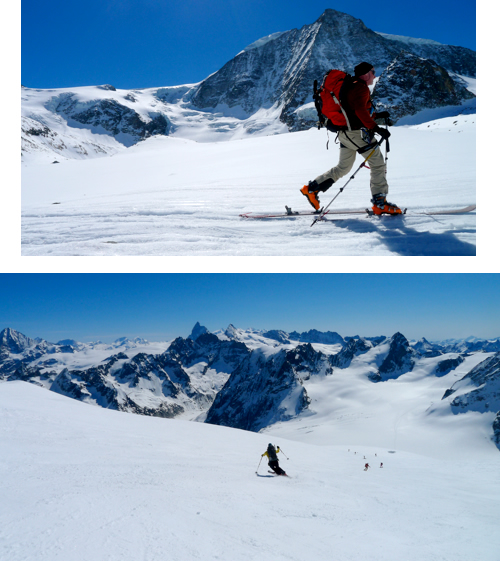 Skiing the Dream in the Heart of the Swiss Alps!