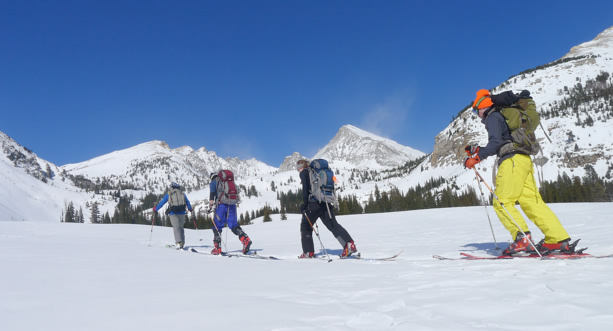 Skiing into the ancient hanging glacier valleys above the Pio hut
This trip is based out of Hailey, Idaho and runs in conjunction with my good friends at Sun Valley Trekking. They own and operate 6 mountain yurts and wall tents in 3 different mountain ranges of South Central Idaho. We can ski multiple days out of each hut with the option moving to a new hut in a couple of the locations. To see huts check out their web site http://svtrek.com/huts.php. The Northern most huts, Bench and Fishook are in the Sawtooth range. This range offers big mountain tours around stunning orange granite spires and toothed ridges skiing big open cirques, steep couloirs and old growth forest. The Boulder, Tornak and Coyote huts are located South of here in the Smokee mountains. The Smokee's have some of the best tree skiing I have ever done. Recent forest fires have cleared out many "burn" areas allowing for surreal tree skiing experiences complete with many open powder fields as well. South and East is the Pioneer hut located in the Pioneer mountains. An impressive old alpine skyline cut with wide glacier valleys for grand tours and if conditions are in some of the best steep skiing around with long descents on faces and couloirs. From these comfortable yurts and wall tents we will explore many pristine old growth forest, glacial cirques, couloirs and amazing views. All huts are outfitted with wood burning stoves, cook stoves, lanterns, bed pads and cedar saunas for our after skiing delights. They have been masterfully located based on accessing ski terrain with multiple aspects and elevations to stack the odds in our favor of finding the goods. If interested we can also do road side touring as day trips while you stay in local accommodations. We can work out an itinerary based on your party's needs and hut availability. It is best to book this trip a half a year out as the huts are very popular for good reason.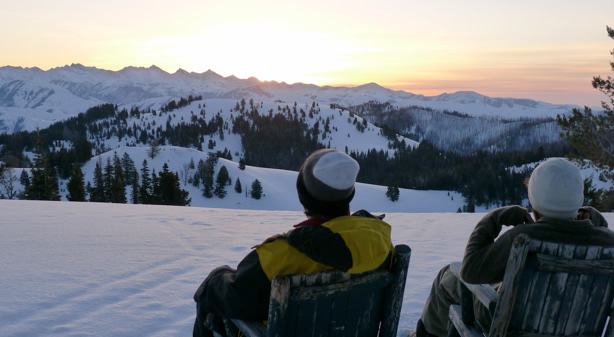 Sunrise over the Pio's from the front porch of the Coyote Yurt
Day 0 – Meet in Hailey for evening equipment check, briefing and dinner.
Day 1 – up to a week
Based on your time availability and desires we can do as little as a day trip or up to 5 nights. We can discuss access and terrain of each hut location to give you more information to make a decision on what type of itinerary would work best for you. A warm up day at the amazing Baldy resort in Ketchum is always a great way to get into the spirit of the ski heritage this valley provides.
Ski skills and fitness level needed for an enjoyable outing:
Participants need to be solid intermediate to advanced skiers who are comfortable in variable snow conditions in a variety of terrain. It is important to have the skills to manage speed and have control in variable surface conditions (powder, hard pack, breakable crust, corn and pack powder) to avoid terrain hazards. At a minimum standard of fitness, skiers need to be able to ski on a tour up to 4 -6 hours with a 35lb pack covering up to 1500 m (5000') skinning/boot and up to 1500 m of skiing. The pack weight once at the hut is lightened up for day tours out of the hut. Porters are available for those wishing to ski with a day touring kit only. Having these following skills will make our tour more enjoyable as well as less stressful:
Backcountry ski/snowboard touring experience including skinning on an AT or Tele set up in avalanche terrain while using a transceiver, shovel and probe and have basic understanding of this equipment.
Ability to make kick turns in hard pack and soft snow conditions in steep terrain. We will work on these skills day one on a tour but working experience prior will help not only proficiency but also safety.
Side stepping in 45-degree hard pack or soft snow conditions
Falling leaf (side slipping to and fro) in 45-degree terrain on hard pack or soft snow conditions
Link turns for speed control in exposed 40-degree hard pack conditions
Link turns in soft snow conditions while skiing fall line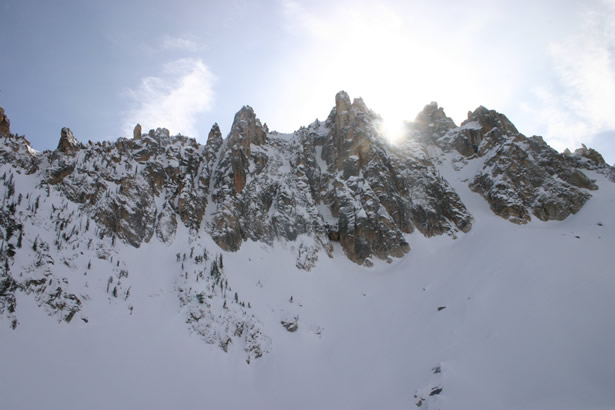 Sawtoothed Ridges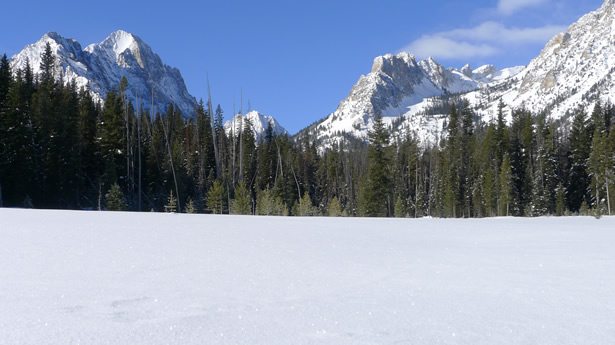 Fishook Valley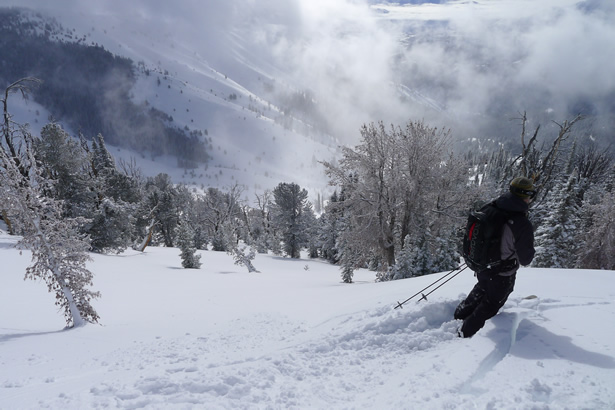 Another Powder Day with Nobody around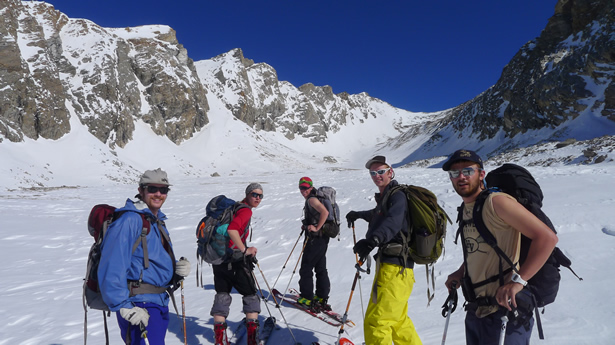 On the Hunt for Corn above the Pio Hut
Trip Cost and Dates:
Is based on a group of 4 or more Please inquire for current cost.
February through March
Dates are reserved on a deposit basis in a first come first served manner.
Trip Cost Includes:
IFMGA Guide or AMGA Ski Mountaineering Certified Guide at a 5 to 1 ratio
Hut fees
All food in the mountains
Office support
Trip Cost Does NOT include:
Transportation for the duration of the trip
Rescue insurance see AAC www.americanalpineclub.org
Travel insurance (optional but highly recommended)
Delays due to unpredictable circumstances such as bad weather, avalanche hazards, transportation problems including planes, sickness, lost baggage etc…