Equipment List for Alpine Climbing in the Alps - back to Alpine >
One of the remarkable things about climbing in the Alps is the ability to access amazing terrain in a stunning alpine setting, all from the comfort of a world-class hut system. The term "hut" does not serve these accommodations any justice. They are architecturally beautiful and blend the old world of historic huts with modern, off-the-grid technology. Equipped by helicopter, they are able to provide fine meals, comfortable beds and the occasional shower. These resources enable us to travel with very small and light packs, enjoying our tours and climbs so much more than we would carrying a full overnight kit.
Your aim should be to get all your gear into a 25 - 35 liter pack weighing around 15-20 lbs. As with any mountain environment, we will encounter extreme temperature swings. The following list is a recommendation of what I feel is a proven kit to manage the conditions we may encounter. Thermal regulation is a full-time job in the mountains and having experience with your layering system and equipment prior to the tour is strongly recommended.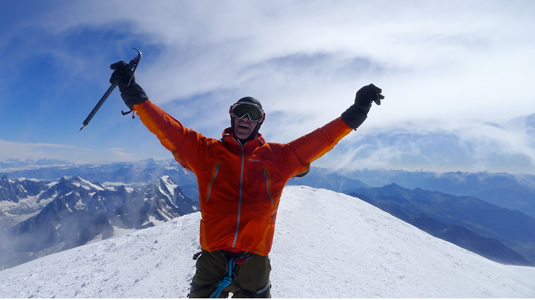 Right equipment Bigger the Smiles!
Technical Climbing Gear:
Climbing Pack (25 – 35 liters), Recommended Mammut Trion Guide 35 liter or Trion Light 28 liter
Ski pole for trekking (triple telescoping best for packing when not in use) Black Diamond Expedition pole
Climbing Helmet *
Climbing Harness (needs to fit over shell pants & bottom layers)*, Recommended Mammut Baffin harness or Alpine Light
Crampons (12 point, semi-rigid with anti ball plates)*, Recommended Petzle Vasak or Grivel G12
Alpine Axe (50-60cm)*, Recommended Petzle Summit or Sum 'Tec
2 locking pear shaped carabiners*
2 non-locking oval carabiners*
5.5 meters/18' of 7mm perlon cord for anchor material*
1.5 meter/4' of 6mm perlon cord for prusik loop*
120 cm x 8-9mm double shoulder sling*
* Rental Equipment for Hire from Alpine Guides International
Miscellaneous Kit:
2 1-quart water bottles or
Camelback or dromedary bag w/ hose insulating sleeve & 1 nalgene
Small thermos for hot brew (optional)
1 headlamp (w/replacement batteries), Recommended Black Diamond Spot
Sleeping bag liner Mandatory in all Mountain Huts!
1 toiletry kit (toothbrush & small tube paste, lip balm, gold bond, feminine
hygiene, ear plugs, handi-wipes or hand sanitizer)
1 Personal First-Aid kit (includes band-aids, blister kit/compeed, meds, cough drops, Tums etc.)
Prescription eyeglasses (contact lenses are hard to use in back country)
Any medications you will need to take during the trip
Small stuff sacks to organize clothing and gear
Camera w/ extra battery & card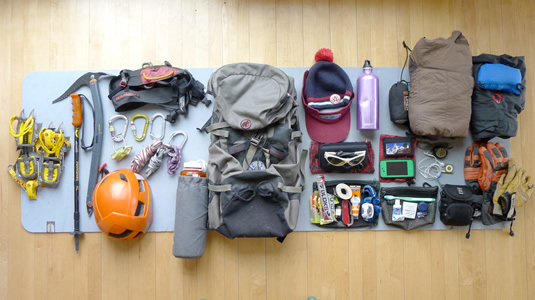 Alpine Equipment and Kit
Please note the following; insulated water bottle holder attached to pack for quick access, water proof bag for wallet/phone, Bot kit has Ibuprofen and Tums in small containers, Light weight carabiners, Athletic Tape for blisters and Sunscreen handy, Music or ear plugs a must!
Upper Body:
Light Weight Synthetic or Wool t-shirt
Light Weight Synthetic or Wool Long Sleeve base layer
Expedition Weight Synthetic or Wool Long Sleeve shirt
Schoeller Soft shell Jacket or Heavy Weight Fleece, Recommended Mammut Ultimate Jacket
Shell Jacket (waterproof breathable), Recommended Mammut Grade Jacket
Windbreaker (optional)
Insulating jacket/Puffy (synthetic fill or down), Recommended Mammut Stratus Hoody or Stratus Flash
A comfy and breathable quick drying "hut shirt"
Lower Body:
Underwear as needed (synthetic preferred).
Light or Mid-weight Synthetic or Wool long underwear bottoms, I cut them off above the knee to make "Short Johns" for my summer comfort.
Schoeller Soft Shell Pants or Midweight fleece, Recommended Mammut Glacier pant or Patagonia Guide Pant
Lightweight Shell pants must have side zippers to at least knee high, Recommended Patagonia Rain Shadow Pants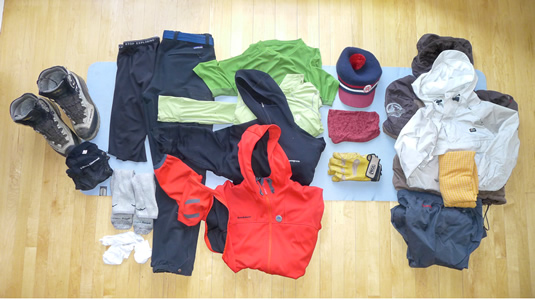 Please note the wide and flat waist belt for better interface with pack and harness, poly pro sock liners more than many a trip saver!, everything to right of the hat and gloves is in the pack as seen above with the addition of a hut shirt
Head:
Polar fleece or wool ski hat
Baseball hat or visor (dark underside of visor)
Buff (goggle them, their amazing) or fleece neck warmer
Sunglasses or glacier glasses w/ retainer strap (wrap around or w/shields is best) Recommended Julbo Explorer alt arc 4 lens
Hands:
Lightweight Gloves, leather or rubber/cotton work glove, buy at hardware store (for warm days & climbing on cables and ladders)
Insulating Gloves with Shell and gauntlet (waterproof breathable shell w/ removable synthetic liner) Recommended Mammut Expert Tour glove or Guide Work glove
Puffy synthetic Mitts or Dachstein wool Mitts if hands prone to being cold
Feet:
Leather mountaineering boots, Recommended La Sportiva Batura, Nepali or Trango Extreme Evo Light
Short Gaiters, BD Scholler
2 pairs of light synthetic/polypropylene liner socks
2 pairs of medium weight wool/poly hiking socks
Guides Kit Contents:
In addition guides will carry extra kit in order to have the appropriate resources for the particular objective at hand. My guides and personal kit changes every day based on the intended route, tour, bike or hike. Every outing requires tweaking the systems to meet the objectives at hand with as little weight as possible.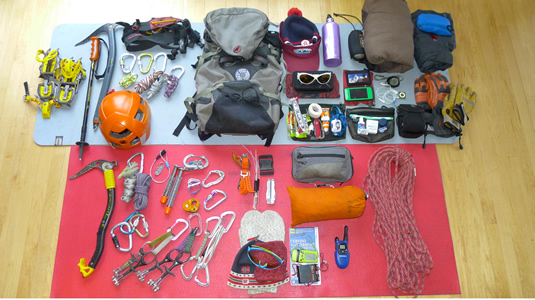 Full Guides Kit give or take for an alpine route in the Alps

8x10 guides tarp shelter, maps/tour plans, GPS, compass, phone, altimeter/watch, headlamp (plus extra small Tikka in first aid), extra double/triple A batteries, sunscreen, first aid kit, repair kit, extra hat/neck-warmer/wool mitts/sunglasses, goretex shell top/bottom, synthetic puffy jacket, 1L bottle, snacks, sleeping bag liner, piolet, alpine hammer, crampons, Helmet, 5 pear lockers, 4 non lockers, V. threader/knife, 2 screws, plaquette, Triaxon, T Bloc, 30-40 meters of 8- 9.2mm rope, 2 cordelletts, 2 double shoulders, 2 prussik loops, misc. rock pro based on route