St. Elias Ski Mountaineering Equipment List - back to Skiing >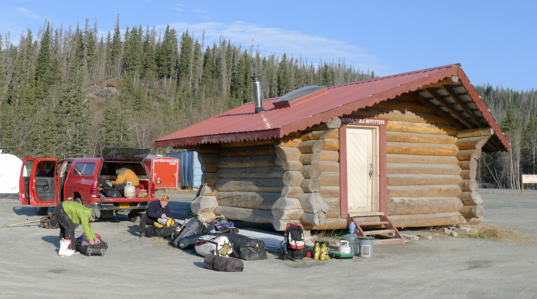 Getting gear sorted on the Tarmac in China
Technical Ski and Glacier Kit:
Climbing Pack (30 – 40 liters), Recommended Mammut Nirvana ski pack 35l or Trion Guide 35l
Ski poles with mid sized basket, telescoping best, Back Diamond flick lock work best
Mid Fat Skis, say 95-100ish under foot is recommended to balance the tour and turning, something like the Dynafit Manaslu
Alpine touring bindings or Tele Bindings with the correct screw head bit and extra screws, Recommended any Plum or Dynafit freeride binding
Climbing Skins and Skin Wax, These must be cut from edge to edge with only a couple mil of base relief, well conditioned skins will be a time saver if in doubt re-glue a couple thin layers allowing 24hr dry time between layers
Ski Touring Boots, Therma fit liners and custom foot beds highly recommended
Ski crampons are a must! Tele bindings will necessitate finding a compatible system that will work for you. Some folks use a Dynafit plate mounted under the toe piece to slip in a Dynafit crampon, need to be connected to pack within arms reach with a non locking carabiner Climbing Harness (needs to fit over shell pants /coats ) Recommended Mammut Alpine light harness, lighter and less bulky the better preferable with a belay loop and quick slide lock buckles
Crampons (12 point, semi-rigid with anti ball plates),make sure they interface well with the walk/ski mechanism off the boot, Recommended Petzle Vasak or This is one time I would recommend using aluminum crampons such as the Grivel Haute Rt. a combo of steel and Al. Or Camp makes some nice Al. ones as well
Alpine Axe (50-60cm), Recommended Petzle Summit or Sum 'Tec
Avalanche Shovel, Recommended G3 Avitech
Avalanche Probe Minimum 235 cm, Recommended BD Guide 300
Avalanche Transceiver, Recommended Mammut Pulse
2 locking pear shaped carabiners
2 non-locking oval carabiners
5.5 meters/18' of 7mm perlon cord for anchor material
1.5 meter/4' of 6mm perlon cord for prusik loops
Long rubber ski straps 1 or 2
Head:
2 Polar fleece or wool ski hats
Baseball hat or visor (dark underside of visor)
Buff (goggle them, their amazing) or fleece neck warmer
Sunglasses or glacier glasses w/ retainer strap (wrap around or w/shields is best) 100% UV protection, Recommended Julbo Explorer alt arc 4 lens
Goggles with light lens for low viability, Highly recommend Julbo Zebra
Sunscreen and Lip screen , min 30 SPF
Upper Body
1 Synthetic or Wool t-shirt
Light Weight Synthetic or Wool Long Sleeve base layer
Expedition Weight Synthetic Long Sleeve shirt
Schoeller Soft shell Jacket with hood or Heavy Weight Fleece Recommended Mammut Ultimate Jacket
Hard Shell Jacket (waterproof breathable),Recommended Mammut Grade Jacket
Insulating jacket/Puffy (synthetic fill or down)
Recommended Mammut Stratus Hoody or Stratus Flash something to throw over everything for a break but light weight and packable as well
Lower Body:
Underwear as needed (synthetic preferred).
Light or Mid-weight Synthetic long underwear bottoms
Schoeller Soft Shell Pants , Recommended Mammut Champ or Glacier pant, Patagonia Backcountry Guide
Lightweight Shell pants must have side zippers to at least knee high, Recommended Patagonia Rain Shadow Pants
Puff Ball insulated Pants (Patagonia Puff pant) or pile/fleece Pants Big with side zips to go over everything for hanging in camp
Feet:
2 pairs of light synthetic/wool ski socks socks
2 pair big fat expedition socks for camp use
Mukluks for camp wear –with down booties. Use a felt inner sole or customize one from ensolite. Waterproof the bottom sole of the mukluk. Sorel-type boots also a possibility
Pack Towel for drying feet
Camping Gear:
A Four season sleeping bag rated to at least –10 (minus ten)
Air mattress incorporated within a chair/pad unit
Ensolite pad (closed cell foam, ridge-rest type): full length
Four season tent –inquire as to it being appropriate for the trip!
Miscellaneous:
2 1-liter water bottles with Insulation Covers or 1 if thermos
.5-1 liter thermos for hot brew (optional)
1 headlamp (w/ fresh batts), Recommended Black Diamond Spot
1 toiletry kit (toothbrush & small tube paste, lip balm, gold bond, feminine
hygiene, ear plugs, Toilet Paper, handi-wipes or hand sanitizer, hand lotion)
1 Personal First-Aid kit (includes band-aids, blister kit/compeed, meds, cough drops, ibuprofen)
Prescription eyeglasses back up to contact lenses
Pee Bottle , Used wide mouth Nalgene best
Insulated Cup/Bowl with Utensils
Small stuff sacks to organize clothing and gear
Camera w/ extra battery & card
Paperback Book and Journal
Lighter on a leash
Favorite snack foods (will provide snack food as well)
Compass and/or GPS (optional)
AGI and SVT provides:
Food, group medical kit, repair kit, stoves, fuel, kitchen, maps, compass/thermometer, and a wax kit for skis, sleds . A radio/satellite phone, Spot, sleds, snow saws, ropes and crevasse rescue gear, wands. We also can pull together rental camping equipment as needed.